As a part of Assembly Winter 2021 Scene Lounge Online, we bring you streams from the Lovebyte Demoparty!
Lovebyte. Where size matters.
Join us in a celebration of the smallest with a dedicated sizecoding demoparty/event, held on the weekend of 12-14th march 2021 on Discord and Twitch
We'll be online streaming with intro competitions in different size categories from the smallest to the even smaller. From 256 pixel graphics and nanogame competitions to bytebeat music competition.
Or what about cool size-coded related seminars to get you started, Roundtable, DJ Sets and many other events?
This is the one event where size does matter! Don't miss it!
Text from Lovebyte website, check their page for more information!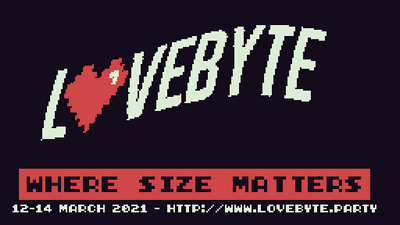 Watch the Lovebyte 2021 Invitro on YouTube here: Lovebyte invitro – 512 byte – TIC-80